China is showing no sign of budging. It accuses the Philippines of using a 2016 international tribunal ruling, which found no legal basis to its claims to most of the South China Sea inside its nine-dash line, to "deny the thousand years of fishing rights of the Chinese fishermen in the area".
"The South China Sea arbitral ruling is illegal and ineffective," China's foreign ministry spokesman Zhao Lijian said.
"We urge the Philippine side to objectively and rationally view the matter, stop hyping up and stop bringing negative influence to the South China Sea situation."
There was another warning from Chinese Communist Party mouthpiece, The Global Times, whose editor Hu Xijin said in video on its website that the Philippine military "should not act rashly other than making some noise".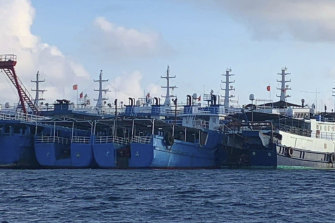 "Otherwise, China will definitely give a strong response," he said.
The Philippines has been supported by the United States in its stance on the Chinese vessels and Australia's ambassador in Manila, Steven Robinson, also said last week he was "concerned about any destabilising actions that could provoke escalation in the South China Sea".
Loading
Amid the ongoing tension, the Philippines is relying heavily on Chinese vaccines as it confronts one of the worst outbreaks of COVID-19 in south-east Asia. Infection rates have surged in the past three weeks including a daily record of 15,298 positive cases on April 2 and like other countries in the region the Philippines has been hampered by a delay in the supply of the vaccine. Rodrigo Duterte's government has purchased 25 million doses of Chinese Sinovac but only 2 million have arrived.
Duterte, who has sought closer economic ties with China since he was elected President in 2016, has been more measured in his public commentary on the new South China Sea feud and his spokesman said on Tuesday it would not affect the nation's access to Chinese vaccines.
"Whatever differences we have with China will not define our bilateral relations," spokesman Harry Roque said on behalf of Duterte.
"It will not be an obstacle to the overall positive trajectory of our bilateral friendly relations and our deepening co-operation in pandemic response including vaccine cooperation and in post pandemic economic recovery."
Chris Barrett is the south-east Asia correspondent for The Sydney Morning Herald and The Age.